Post by frankie on Oct 7, 2019 11:17:48 GMT -7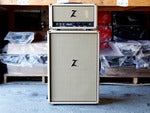 Of course we take half up front on any direct order. This is so that we know the customer is serious on their purchase. Not a fund for whatever parts we need. The fact of the matter is our suppliers do not provide us with chassis, parts, cabinets, etc. in onesies and twosies. We have explained this in very direct terms how this related to color cabinets. So apply this to custom made aluminum chassis. We can't just order 3. Add that to the time it takes to re-instruct a builder on how an amp that's been out of production for a decade, when he is used to building other models, the time it take to update the layout, custom make the boards, etc. and realize that it's not just "take a down payment and make it materialize."
I think you should consider the fact of the matter is that Dr. Z has been in business for 30 years because he doesn't take down payments for amps that don't exist yet. He pays in-full for all the parts stock, so he has control of the inventory and can deliver consistent product in a timely matter, unlike a builder who promises an amp and doesn't have the parts or time to actually deliver. This is a major overhead consideration, but it is this practice that he had built a long career upon. Look up the history of amp builders that have taken down payments on imaginary product and you'll see a list of people not doing it anymore, and a lot of unhappy customers and ruined reputations.
And for your insistence that "anyone who orders something custom/direct should get the option for colored cabinets" that I have seen you espouse? No, they shouldn't. There's no obligation for us to give you anything other than what we can offer. Amps are LUXURY item. We have one cabinet person, and he doesn't have time to untolex and retolex cabinets all day. But for you, he will, at a $1000 an hour upcharge.
Hope you are now clued in.
Sure I am, but I'm still gonna reply. No need to get those panties bunched up. That was a great explanation even though you were bristling. I guess the reason Mesa Boogie can offer so many different options is because they are not a boutique builder. I've owned and own many Z's and I'm just wondering if you guys treat all the customers like that when they have questions that you don't want to deal with.
I'm sorry, what was the question? I didn't see any questions.
Anyway, Jetta full demo is now live: