Post by premiumplus (Dave) on Feb 23, 2019 6:45:59 GMT -7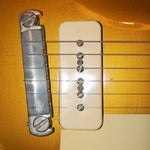 I only post this so that those here that are interested in this particular speaker may have a basis of inguiry to the manufacturer to understand if they ever felt these problems were real, and if so how the issue was resolved. Trust me it was a real problem, and unrelated to mounting errors or bad strings and setup. And I am encouraged from the positive comments I have read recently that indicate the speaker is performing like I wished it would have for me. But I would have felt more comfortable had the issue been acknowledged, and upon verification by them been offered a full refund including shipping. I hope my comments are not seen at all as a drive by bash, but rather as a measured and fair opinion. I do wish them the best of success as they are a company dedicated to offering products to us guitarists in order to help fulfill our sometimes crazy tone needs.
That's really interesting because I noticed the same thing (cone cry) with my ET-65 when I had it in my Z-Wreck. When cranked loud, it definitely had some nastiness up above the 12th fret. I put a Gold back in and all is good in the world once more.

It makes me wonder if I damaged the ET-65 somehow, because I never noticed it with other amps. It only happens at certain frequencies, like the B string at the 19th fret, or the 17th fret when bending up one full step.