Post by Rich (fbb90) on May 15, 2010 14:43:06 GMT -7
My GT's been a little neglected lately. Since I picked up the SRZ and Delta 88, the GT has been sitting on the sidelines. I needed to show it some love too, so I took it to rehearsal last night.
I did some demo recording (real rough live stuff) of some of my bands originals about eight months ago on a Zoom H4N. Those recordings were done w/ the GT. However, since January, I've been using the SRZ or Delta (or both) for just about everything.
We are booking some studio time in June to get some of these originals recorded into a demo or EP package, and I've been messing around w/ my head/cabinet/guitar arrangements to figure out what tones I want to try to capture for these songs. And something just hasn't seemed right. When we've been practicing the songs for the past couple of weeks to try to sort out arrangement and lyrical issues, I just haven't been satisfied w/ my sound. Don't get me wrong; the Delta and SRZ sound fabulous. Something has just been missing from the original "feel" of the songs. It's been the GT.
Last night, w/ the GT, all that original clarity and "chime" came back. There is a note to note clarity that is more pronounced w/ the GT than w/ the SRZ. And I know this hasn't been mentioned much in the GT circles, but this amp has a fair amount of chime to it. If I have the amp set to noon on both dials, rolling back my guitar's volume knob gives real good EL84 chime-y cleans. They are every bit as good as my MAZ Jr. In fact, I think they are fuller (maybe because of it having four EL84s instead of two?). And they are CLEAN. It will raunch up quick by increasing the guitar's volume knob to wonderful fat overdrive, but this amp does cleans well.
For the past hour or so, I set up the GT, SRZ, and Delta 88. I'm bouncing them around on three Z Convertible Cabs. One has Z's 2X10s (closed-back), one has a Celestion Gold (middle panel off), and the last has a Celestion Heritage G12-65 (closed-back). The GT on the cab w/ the Gold blew everything else away for clean sounds. I didn't have the amp set up for cleans; I have it set to noon on both dials. I roll my American Standard Strat's volume back a little less than half-way, and it is fabulous. The Delta comes in second. It's cleans are very nice, but it lacks the chime (I guess because of those big KT-88s vs a quad of EL84s) of the GT. When I roll back up on the volume, the GT maintains that wonderful clarity, even when it is raging hot.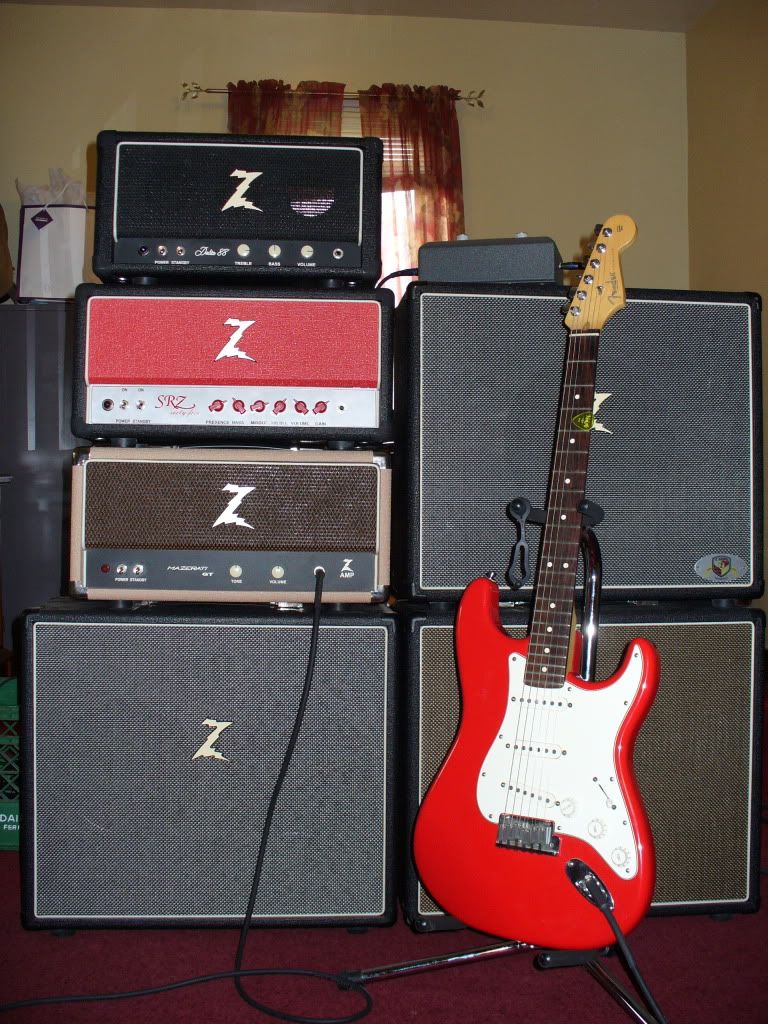 I forgot how great this amp is!